Amerahouse specializes in cleaning all types of fabric including furniture made of velvets and blends of cotton.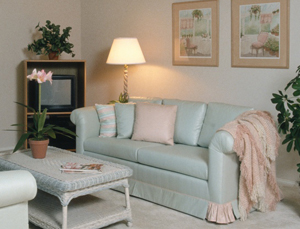 Our highly trained technicians are certified to safely clean your upholstery and leather furniture in the comfort of your own home. Our powerful truck mounted system arrives to your home and is equipped with a powerful vacuum that blasts dirt.
Our 8 step process to clean and soft upholstery consists of:
1. Protect home and furnishings
-No over spray or spill
-We put a drop cloth under your furniture to protect your floor
2. Color test fabric
-We test the fabric to determine proper procedure for cleaning
-This eliminate bleeding or crocking dye
3. Pre vacuum
-Removes up to 79% of dry particles
-Increase cleaning effectiveness
-Remove dry soil before it gets wet
4. Treat Spot
-We will make every effort to remove troublesome spots without damaging you fine
upholstery
5. Pretreat/Applied detergent
-We pretreat the fabric with detergent
6. Extract/Clear water rinse
-We extract with clear water and leave no stick residue behind
-Rinses soil detergent from fibers
7. Apply fabric protector
-Restores fibers ability to resist spots and stains
-Protects your investments
-Extend life of upholstery
8. Speed dry with air mover
-Protects fabric from water marks and stains
-Return furniture to service sooner
-Speeds drying of furniture
Leather Furniture Cleaning & Conditioning
After years of use your leather furniture can become soiled, stained and experienced selective color lost. Despite this worn apperance, the leather beneath is in good condition with many more years of useful life. Our experts thourougly clean your leather upholstery to remove soil, followed by a conditioning of the leather to restore its appearance.
Amerahouse provides a complete leather cleaning service. We apply leather cleanser to remove all traces of soiling from the surface of the leather hide.
This process takes some time and is completed by hand. This is because we want to restore your valuable soft furnishing to as close-to-new condition as possible.
After leather is professionally cleaned and restored, we apply a refinishing cream and a protective coating. This enhances the attractive look of the leather and protects it from spills and further wear & tear.