Our Tile and Grout cleaning is tops in the industy. We use state of the art equipment and through trial and error. Amerahouse has found the most stringest cleaning solutions that attack dirt, grease, grime and stains that you thought would be impossible to come out.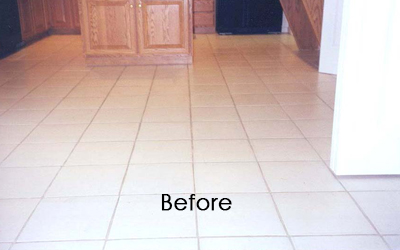 Amerahouse Inc., can clean and protect your tile. We have our own innovative tile and grout cleaning system, which include the following seven steps:
1. Pre-inspection-
We identify the type and style of your tile.
2. Move your furniture-
We carefully move most of your furniture.
3. Dry Sweep-
We dry sweep with microfiber to remove the dry soiling and large particles.
4. Apply Cleaning Solution-
We apply cleaning solution that will activate the best results.
5. High Pressure and high Temperature-
Our powerful high pressure and temperature machine will provide no splash,no mess, and no standing in water.
6. Dry floors-
Mop with hospital grade mop to capture pollutants then set down high speed air movers to blow dry your floors.
7. Grout Sealing-
Have your grout seal with a natural look penetrating sealer. This prevents penetrating by liquids,therefore preventing stains.
8. Tile and Grout Sealing-natural look-
If you have porous tiles such as terracotta, sandstone, or just plain concrete, we can seal it with a penetrating natural look sealer. Your tiles will retain their natural look and texture, just like new, whilst repelling water, oil and soil.