Amerahouse provides stone and tile restoration services. Here are some of the stone we care for:
Slate is natural stone that from time to time needs professional cleaning and sealing. Slate also comes in several different textures. There is a smooth slate and a cleft finish which is a rough finish. Slate is a porous stone and needs to be properly cleaned and sealed after installation.
There are several different ways to finish slate. There are color enhancers, topical coatings such as wax, penetrating sealers and others. The type of seal used this will determine the finished look you will achieve. You can achieve a gloss finish, matte finish or a low luster finish. These finishes depend upon what you are looking for. Amerahouse Carpet & Tile Cleaning can service all your slate needs and customize finishes to your need.
We will also educate you on proper care of your slate surfaces and recommend appropriate care and cleaning products.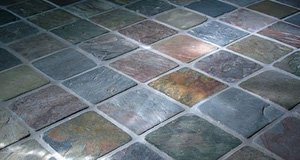 Marble
Marble is generally a softer stone and comes in many colors with different and beautiful veining. Some marbles are harder than others. The truth is that marble will scratch, etch and lose its shine and luster if not maintained properly.
If you have a marble floor, wall, countertop vanity or shower that has become etched, has lost its shine and beauty or is in need of repair, then it is probably time to call a professional marble restoration contractor. Amerahouse Carpet & Tile Cleaning serves the Boca Raton / Boynton Beach and West Palm Beach areas and can repair, refinish, protect and restore your marble, limestone, travertine, saturnia or other natural stone back to its original condition. If you have marble with a matte / honed finish, it, too needs proper care and maintenance. A marble with a matte / honed finish should be periodically cleaned and re-sealed by a professional.
Limestone is a beautiful stone that comes in many hardnesses. Some limestones are soft and very porous while others can be hard. The key to limestone is choosing the correct stone for the environment in which it will be used. Many limestones come in a honed (matte) finish. These stones need to be properly sealed and from time to time will need professional service.
Limestone will scratch and etch, but these problems can be resolved by Amerahouse Carpet & Tile Cleaning.
Amerahouse Carpet & Tile Cleaning professionals are equipped to service your limestone installations. We can restore, clean, seal, repair or polish your limestone, whether it is on your floors, walls, countertops or vanities. We also offer the recommended care products to keep your stone looking its best.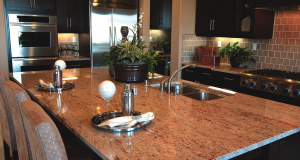 Granite Restoration Requires Specialized Skills
While granite is much harder than marble, if and when granite needs restoration you need to call a professional that has the specialized knowledge to work on your granite. Many stone restoration contractors won't touch it Amerahouse Carpet & Tile Cleaning is qualified to restore your granite. Whether it needs to be diamond honed, re-polished, or cleaned and sealed, our professional technicians can perform these services for you.
The key to keeping your granite looking new is Amerahouse Carpet & Tile Cleaning.We clean, polish and seal granite following proper cleaning methods.
Caring for Your Granite
Granite is different than marble when it comes to its recommended usage and its care and maintenance. The first thing you need to know is that granite is a much harder stone than marble, and granite usually does not etch. (However we are now starting to see that some of the granites that are used today can etch from acidic items being spilled on the surface.)
Granite can be cleaned using the same process as marble. For granite we recommend cleaning the surface using a quality stone safe neutral stone cleaner.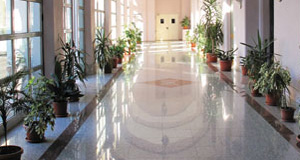 Terrazzo is a unique stone finish that usually contains marble chips of different sizes and colors and is held together with a cement base or, in newer application, held together with a resin or epoxy base.
Terrazzo can be restored using the same process that is used in restoring marble and granite. Most terrazzo is coated with a wax and the waxes have a tendency to collect dirt and to yellow, which will require stripping and re-waxing.
Terrazzo can be polished using a natural polishing process that eliminates the need to strip off the old wax finishes and can actually reduce the maintenance cost. When terrazzo is finished naturally you can achieve a gloss or matte finish.
Amerahouse Carpet & Tile Cleaning can restore, re-polish and repair your terrazzo floors, walls or counters. Using the proper cleaners and care products will keep your terrazzo looking like new with minimum maintenance.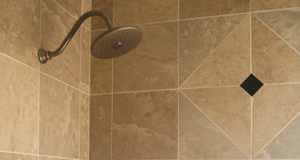 Travertine is a unique stone that comes in many different finishes. Travertine comes in what is known as filled and unfilled. What this means is that travertine naturally has holes that run throughout the stone
The filled travertine is exactly what it says— the holes are filled giving the stone a smooth finish.
Travertine comes in a honed (matte finish) and a polished finish. These finishes need to be cared for and will from time to time need honing to remove scratches and etching or it will need to be re-polished and sealed. Amerahouse Carpet & Tile Cleaning offers services that will keep your travertine looking like new. We can clean, hone or polish and seal your travertine. If you desire we can custom finish your travertine to the finish of your choice. From time to time holes will become exposed in the filled travertine and we can repair these holes and make your travertine look new again.